Tampa Search Engine Optimization
At Rocket Marketing, we get results and we get them fast.
We have over +25 years of experience as a local SEO expert. We've ranked 100s of sites in a variety of industries. We're fast and have a proven track record.
Proven results
Fast rankings
Transparent reporting
Proven Results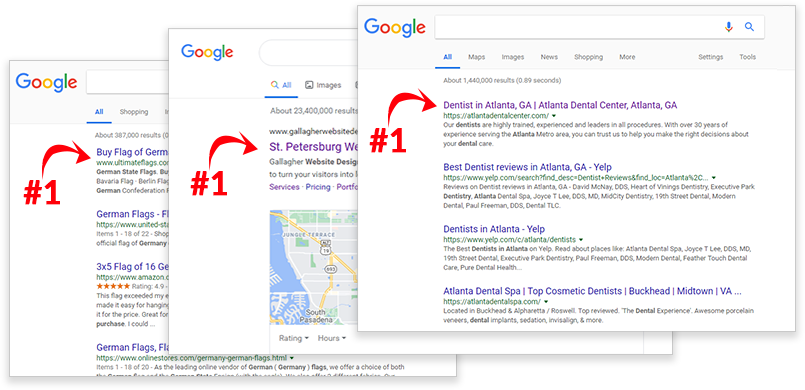 Fully Transparent and Weekly Reporting
You'll always be in the know on what is happening.
We provide full transparency as to the work we are doing. Including a weekly report that details everything you'd want to know.
Position ranking in search
Visitors to your site
Work that was done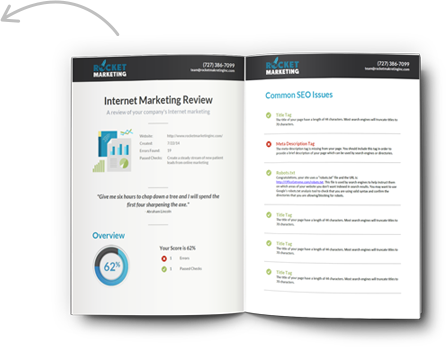 How It Works
We have a several-step process:
We start with some research to determine the best keyword(s) to rank your website for. This could be something like "best pizza in Tampa." Then we pick target pages on your site that we want to rank for those keyword(s).

We optimize the content and code for each of those pages. After optimization, we build links and other assets that send positive signals to Google about your website.

We monitor and adjust both optimization of the content and code on your target web pages and continue to increase your authority by building links back to your site.
We differ most from other SEO agencies because we have a very different approach utilizing AI that we created to analyze your site. Then we have a unique manual process for optimizing and building links to your site. This distinctive approach works super fast at ranking web pages.
25+ Years of Experience in SEO Services
For over 25+ years, we've honed our experience and skills in optimizing websites for search engine rankings. As you can imagine, Internet marketing has undergone significant transformations over those 25+ years, and we've evolved alongside it. Our extensive tenure in the SEO industry has equipped us with unparalleled knowledge and experience, setting us apart from other marketers and agencies.
Our core team of SEO experts understand the world of digital marketing on such a deep level, many digital agencies hire us to consult them on SEO for their clients.
Rank Your Website Faster
With our extensive experience and the development of our proprietary software (including AI software), we possess the ability to rank websites swiftly. The speed at which a website achieves high rankings for specific keywords is influenced by various factors. However, leveraging our experienced SEO team, innovative thinking, and a multitude of test cases, we have successfully crafted a systematic strategy that expedites the ranking process.
Furthermore, our years of experience have allowed us to gain valuable insights into the ever-evolving landscape of search engine algorithms. We stay ahead of the curve by closely monitoring industry trends and continuously adapting our strategies to align with the latest best practices. Our team of experts understands the nuanced intricacies of SEO, enabling us to make informed decisions and optimize websites effectively.
In addition to our expertise, our proprietary SEO software and AI plays a crucial role in enhancing the efficiency of our ranking process. We have invested significant resources into developing advanced tools and technologies that streamline various aspects of SEO. These tools provide us with deep data analysis, competitor research, and comprehensive keyword research capabilities. By leveraging the power of our proprietary software, we can uncover hidden opportunities, identify areas for improvement, and execute targeted optimization strategies that yield faster and more impactful results for our clients.
Pricing & Cost
We recognize that each campaign requires a tailored approach and unique set of resources to achieve desired results. Therefore we provide indepth custom quotes based on the evaluation of your website's needs and goals. Fill out your information below to get our free pricing guide and find out what we can do for you.
How Our Marketing Process Works
At our marketing agency, we have devised a methodical and structured approach that consistently delivers results. Our approach consists of 7 carefully crafted steps, each executed with complete transparency. Below you'll find an overview of each of the steps.
Keyword Research
Competitor Analysis
On-Page Optimization
Google Maps Optimization (for local campaigns only)
Link Building
Social Proof & Traffic Optimization
Reporting
We Built Our Own SEO Software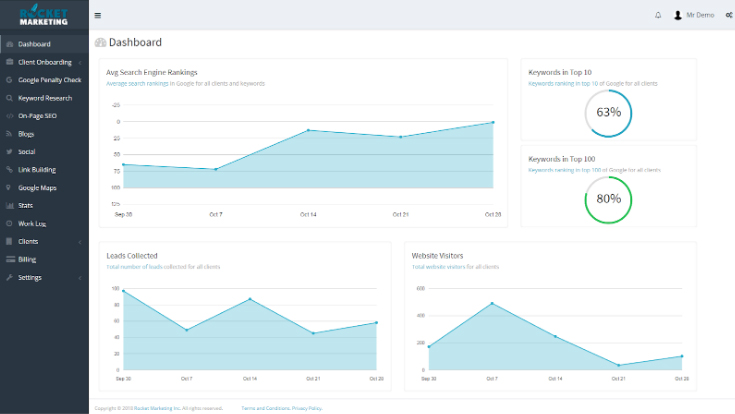 At our marketing agency, Rocket Marketing, we've developed exclusive SEO software - a powerful instrument for consistently achieving first-page rankings. Our software has been recognized in the industry as a leader, with numerous marketing and SEO companies choosing to leverage it. Drawing upon our extensive experience, we have transformed years of knowledge into a comprehensive collection of software and tools. Our software suite also includes an AI that allows us to perform optimization tasks and analysis better.
We're a Local Tampa SEO Agency!
As a local agency right here in Tampa, FL, we are dedicated to supporting and empowering local businesses right here in Tampa Bay. While we possess the expertise of a big city agency, we take pride in our one-on-one approach, treating you as our valued client. Our commitment to delivering personalized attention sets us apart, allowing us to forge a strong partnership based on trust and mutual success.
How Tampa SEO Services Can Help Your Business
Being among the leading agencies, our digital marketing services are designed to effectively position your content and company in front of your target customers. By increasing visibility, we drive more clicks and engagement, ultimately bolstering your bottom line. More people are online today as well as working from home. This shift creates an opportunity that you can leverage by enhancing your online presence. Moreover, establishing a stronger online presence enables you to tap into markets beyond Tampa FL, expanding your reach and potential customer base.
Key factors to consider are:
More people are online today
SEO works for you 24/7
Better return than Facebook or Google ads
Boosts your credibility and authority
Cost-effective marketing
FAQ - Small Business SEO & Marketing
How long does it take to see results from local SEO efforts?
The timeline for seeing results from local SEO efforts can vary. It typically takes several weeks to a few months to notice improvements in local search rankings. Most SEO firms will state 3-6 months to see significant results. But this can vary widly and we typically see much faster results (in most cases ranking on the first page in the first month). To make sure you rank fast, we'll work with you to develop a firm SEO stategy that will quickly result in higher rankings.
Will I get results?
Yes, all clients we have worked with have seen improvements in SEO rankings. Within 1-2 months of our services, most clients rank on the first page in positions 1-10, low positions happen even faster. Our proven SEO process gets results no matter what type of website you have or your industry. Some industries can be more competitive; in these cases, we provide more robust services, including SEO backlinks at scale and a high level of on-page optimization.
What factors influence local search rankings?
There are over 200+ factors that influence local search rankings, including the relevance of website content, accuracy of business information, online reviews and ratings, engagement metrics, and optimization of Google My Business (GMB) profile. If you want to rank for a local area, such as Tampa, then you'll need to optimize each of those factors on and off your website. At our SEO firm, with our services we do an analysis to see which of those 200+ SEO factors need attention. And then take each on a individual basis until we've got everything optimized just right.
Do online reviews and ratings impact local SEO? If so, how?
Yes, online reviews and ratings have an impact on local SEO (no matter your location Tampa or other wise). Positive reviews and high ratings can improve business visibility and credibility, increasing the likelihood of users clicking on the website. Search engines also consider the quantity, recency, and overall sentiment of reviews when determining local search rankings for both map listing and organic SEO. Our SEO agency will craft a strategy to attract and retain more positive reviews, so that when people click in Google to "view profile" of your business they'll see a high rating Tampa residence will trust.
At our Tampa agency, we understand the importance of positive reviews and their impact on your online reputation. We also offer a reputation service where we can improve your online reviews making you shine to everyone in Tampa. Our strategies are designed to not only improve your local search rankings but also enhance the overall reputation of your business, ultimately driving more customers through your doors here in Tampa.
How can you improve my visibility in local map listings?
SEO for Google maps requires the optimization of a number of factors on your map list and off your map listing. To improve your visibility in local map listings, our Tampa SEO agency will focus on optimizing your Google My Business (GMB) profile by providing accurate and up-to-date information about your business, including your address, phone number, website URL, and business hours. We'll put together a strategy to encourage customers to leave reviews, respond to reviews promptly. As well as engage with your audience through posts and updates on your GMB profile. Additionally, ensure that your website is optimized for local keywords and has relevant content related to your local area.
Can I do more than 1 keyword or search phrase?
Yes, we can do SEO for as many keywords or phrases as you perfer. The more we optimize your site for the better result each will get. You can also have us add an additional keyword to SEO your site for at any time. Our services are month to month so you can add additional keywords at any time.
Is SEO an ongoing or one-off service?
SEO is an ongoing process rather than a one-off service. It requires continuous effort and optimization to maintain and improve search rankings, keep up with algorithm updates, and stay ahead of competitors in the ever-changing digital landscape. Therefore at our Tampa firm, we offer SEO as a monthly service. Our monthly SEO service is month to month. So there is no contract. We also offer some on-off SEO related services upon request.
Do you have contracts or is it month to month?
Our SEO is month to month. There is no contract and you can cancle at any time with 30 day notice. We believe this shows now confident we are in our ability to rank your website. Where as other SEO firms might make you commit to a 6 or 12 month contract. Again we believe you shouldn't be subject to sticking with a contract where you are not getting results from the SEO work.
Do you bundle other services with your SEO?
Yes, we can provide a more comprehensive package if you're intrested in bundling other services. We offer a wide range of related digital services. Many of these work hand-in-hand with SEO to improve the result of both. Some of the most common services we bundle with our SEO is Google and other ads, social media, and email. Each of these can be tailored to fit the exact needs of your Tampa based businesses.
Do you work with my industry?
Yes, we provide services for most industries. Whether you are in Tampa or not, we can provide SEO optimization that will produce positive results fast. Some industries have been known to be more competitive. In this case, we ramp up our SEO efforts and provide more robust services. This including a higher level of on-page optimization and SEO backlinks at scale. Some industries include SEO for law firms, chiropractors, dentists, roofing companies, and more.
Are you only in Tampa?
No, we provide services to companies all over the globe. Our headquarters is in Tampa, but we have locations throughout the US. For all of our services, including SEO, we can work with you no matter where you are located. We've worked with clients across Florida, including Tampa, St Pete, Orlando, Miami, Sarasota, Clearwater, and more. Additionally, we provide SEO to clients all over the US, from Utah to Pennsylvania. As well as SEO to clients in other countries including the UK, Egypt, China, and more. Tampa is our hub, but we can service just about anyone anywhere virtually.
Tampa SEO Company - Social Media Marketing And Other Services
Social Media Marketing
Email Marketing
Web Design
Paid Ads
At our SEO company, we offer a comprehensive range of services designed to enhance your online presence and drive business growth for both large and small business. One of our key offerings besides Tampa SEO is social media marketing, a powerful tool in today's digital landscape. Our team of experts understands the intricacies of various social media platforms and can develop tailored strategies to effectively engage your target audience. From creating compelling content to managing advertising campaigns, we ensure that your brand message resonates and reaches the right people.
In addition to social media marketing, we provide a wide array of other services to support your digital marketing needs. Our team excels in search engine optimization (SEO), working diligently to improve your website's visibility and organic rankings. We employ cutting-edge techniques, conduct in-depth keyword research, and optimize your website's structure and content to drive qualified traffic to your site.
Furthermore, our expertise extends to pay-per-click (PPC) advertising, where we develop strategic campaigns to maximize your return on investment. By carefully selecting relevant keywords, crafting persuasive ad copy, and optimizing landing pages, we help you achieve optimal results while managing your ad spend efficiently.
To further strengthen your online presence, we offer content marketing. Our team of skilled writers and content strategists create compelling and informative content that resonates with your target audience. From blog posts and articles to infographics and videos, we ensure that your content provides value, builds brand authority, and attracts organic traffic.
We also provide website design and development services, ensuring that your online platform is visually appealing, user-friendly, and optimized for search engines. Our team combines aesthetics with functionality to deliver a seamless user experience and drive conversions.
Additional services we provide include: mobile app development, web design, social media, content, Google ads, Facebook ads, other paid ads, LinkedIn. We work with companies in Tampa, Florida and all over the globe. To see if your SEO or other project is a good fit with us, submit a quote request.
With our comprehensive suite of services, at our SEO company we are well-equipped to address your diverse digital marketing needs. No matter what internet marketing services you require, be that social media, SEO, PPC, content marketing, or website development, our experienced team is dedicated to delivering results and helping your business thrive in the digital realm. If you're looking for the best of services SEO companies can provide, then look no further. We're Tampa's #1 SEO agency and marketing agency for search engine optimization, paid search, social media, email, and everything online marketing.